have gone awry. Life is what happens when you've made other plans. (Wo)man plans and God laughs. Plans fail for lack of counsel, but with many advisers they succeed. That last one is Proverbs 15:22, NIV. It's the one I should concentrate on but it really doesn't apply in this instance. I don't think it does, anyway.
Sunday night, I had an email from my boss saying it would be fine for me to take the week off. I went to bed with visions of getting up the next morning and attacking FLEAS! I slept in after another night of occasionally being bitten. It wasn't long. Less than an hour but I would have been up and at 'em any other morning. It's my habit to get up and check my email. Oh, woe! I had a message from my boss. With fear and trepidation, I opened it. Sure enough, something had come up at work and there was a strong possibility I'd be needed. Rather than having to interrupt what I was doing, I emailed back that I'd come in. So it was off to the races again.
As it turned out, it was a good thing I was there. The schedule called for one of the registrars to be off and things were blowing up. First off, the copier had gone belly up. I took care of calling on that and then coffee was spilled on the new switchboard. Fortunately, it didn't have anything added but it wouldn't work right until it had dried completely out. I took the plastic overlay off and the layer underneath. The maintenance man came up with the air compressor and blew out the remains. It's okay now. There were problems here and there throughout the day. It was Monday all day long.
Our regular copy machine guy was out so someone else came. He had the attitude of "you women don't know how to put the toner in" and told me nothing was wrong with the copier. After he'd run his test copies, it was obvious we were right and he wasn't. He worked on it over an hour and patched it so we could use it temporarily until he could get back with a new part a couple of days later. I don't dislike many people but he wasn't even on my list of people I do like. I hope my attitude didn't show.
The rest of the week went by with nothing remarkable except fighting fleas (that's for another post) and the copier guy coming back. He's the type person you just know was picked on in grade school. After he got the copier back shipshape, he was so proud of himself I felt sorry for him. Somehow, we got to talking about gardening and I told him he should try Square Foot Gardening. He said he's been growing flowers for several years but was considering planting food. By the time he left, we were friends.
Wednesday, I emailed my DIL (DS1's wife) and asked if her husband had mentioned anything about my spending the weekend at their place. I had a message back Thursday saying it would be fine.
Wednesday night, I went to prayer meeting and it was an adventure getting home and getting back on time. I requested prayer to get rid of the fleas and what I got was people lined up after giving me all sorts of solutions. Some of them made sense and some were downright toxic.
Friday, I decided to collect on "you owe me" from my boss and asked to leave at noon. I sailed home and got ready to leave. I arrived here before sundown and met Benji, the little dog, for the first time. He didn't see me come into the house and when he discovered me, he about went ballistic. He could eat a person up if given half a chance. After being somewhat attacked several times, he was put on his leash and kept away from me. It was hours later he accepted me, sort of. He'd come over to be petted but as soon as I'd start walking, he have at me again. Here he is at a quiet moment (I must not have been visible):
I gave my granddaughter her late birthday gift (a little bag filled with freebies from Avon). She thanked me and was very nice about it. I gave my son his card with a gift card inside. Then I had him get his camera (his birthday gift from my DIL and granddaughter) and be prepared to take a picture. I acted like I'd forgotten her card (devious) and gave it to her. She opened it and found MONEY inside. Her expression says it all.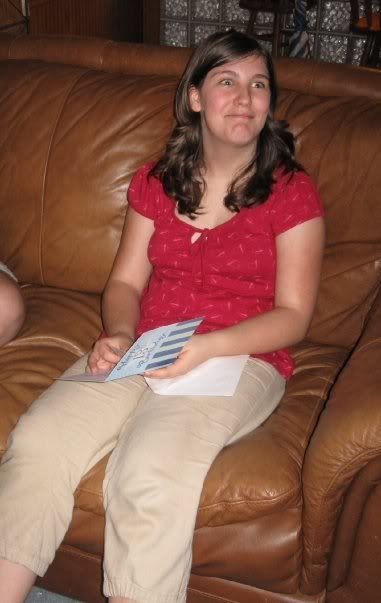 That called for a picture of the two of us but it was a bad time. It's the worst picture of me anywhere any time ever. I'm going bra shopping tomorrow and I won't be caught by a camera after a day like yesterday. DS1 put it on FaceBook and I threatened him. He won't take it down so I might as well post it here. You can see what a beautiful young lady my granddaughter has turned into. She even has what my mother-in-law called "mouth jewelry". The tin grin is in: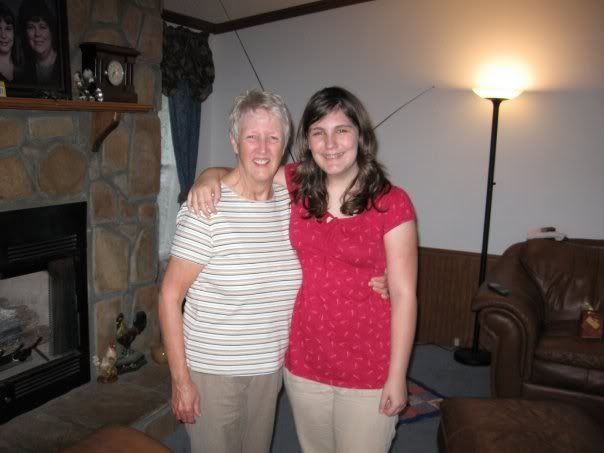 While I ate my salad, we watched "Words by Heart" which is a very sad movie.
I got to bed later than I usually do on a Friday night but it was nice to be with Family.
My DIL is the church secretary so it was up to her and DS1 to flag people down and get them to sign up for the new directory. Our little church had one day for picture taking but they have at least eight or ten. While they did that, I had a good visit with my niece I seldom see.
DIL came on home while DS1 finished up. We went to pick up my granddaughter and then it was back to the house where they ate their Sabbath dinner and I had a green smoothie. My granddaughter told us about the youth speaker they had who used to be a member of Cirque du Soleil. Some of it looks a little too far out for me.
This afternoon has been spent in rest and relaxation and EATING. I ate a huge bowl of watermelon, some Juan Canary melon, and a bowl of tomatoes. That was in addition to the OJ/strawberry blend this morning and my green smoothie when I got home.
Seems the stuff in the floor of the car was harboring Critters. I took a bath and tried to drown the ones that were on me. I offered to go home but the decision was that if I brought some in, they were already here and it wouldn't do any good to leave. They wouldn't go with me.
I called my sister this evening and talked to her until time to go to Wally World via a tour of the outside of the new church and scoping out the condos built for aging residents. When we got to our destination, my watermelon was calling me to the point I embarrassed myself. Word to the wise—if you have a weak bladder to begin with and you've eaten lots of watermelon, don't pass Go or collect $200. Head straight to the bathroom.
The gift card has been spent and I am, too. I think I may be somewhat dehydrated. My urine doesn't usually have any smell but it did tonight. If that's TMI, look at it as being part of the raw food lifestyle.
Good night and sweet dreams!