My mother brought us all up to respect authority and along with that came trust. When I was contacted about being "interviewed", it didn't occur to me that I should at least have another adult present. A lawyer to advise me would have been appropriate. The thought never crossed my mind. In my world, if you were honest and told the truth, you would be treated fairly. Yeah, right.
The appointed day and time came. I was home alone except for my DD and she wasn't capable of being a witness to the proceedings except in a passive way. The two men came to the door, showed their credentials and asked to come in. Naive me let them. I even offered them something to drink. They looked around the living room (I'd been playing one of my favorite records—James Galway). One of them commented it was surprising to see our library of Christian books. I don't know what they expected to find—a den of iniquity? I assumed (a dangerous thing to do) they were following up on DH's crash. I didn't inquire concerning the reason for their visit.
They asked me what I supposed were standard questions and I answered them to the best of my ability. DD was bashful and hid behind me, peeking around at them from time to time.
Before we'd moved to the trailer, my oldest sister and her husband came to visit. My BIL referred to DS1 as "Hezekiah" because he'd shown him all our "treasure". That was basically what I did with the officers or whatever you'd call them. I don't even remember what branch of government or law enforcement they were from. It's been almost 30 years and it isn't something I've tried to retain in my brain.
They asked about Billy B. Beamway's Flying Machine Shop and I was only too glad to take them to the hangar so they could see the inventory hanging on the walls. The Piper Cub was backed out of the way to make room for an ultralight or two and a hang glider to be set up. I got them sample hang gliding magazines, business cards and pens with our logo from the desk in the corner. Since DH was away on a trip, there were no customers there. I didn't take care of anything other than patching sails, driving tow or keeping the books.
We walked out to see the runway and I explained the training process. Most of the focus was on ultralights because there were no mountains around. A pilot in training would be strapped into the seat of the ultralight. He'd be equipped with a helmet. The propeller would be removed to prevent damage and there would be a tether going from the nose of the ultralight to the truck where it was fastened to a quick release. DH would stand in the back of the truck up next to the cab and I'd drive. I quickly learned to accelerate very gently. DH would call out instructions to the trainee and give me directions, too. When enough altitude was reached, he would release the line and the pilot would glide back down and land. It wasn't for the faint of heart.
After some more questions and answers, they left. I was satisfied I'd done my best.
Life went on as usual for several months until DH got word that his credit card records were being subpoenaed. At that point, he went to a lawyer. The lawyer was able to obtain a copy of my encounter with the two men who had visited me. That was when I learned there is corruption in the nicest-appearing people.
The "interview" went on for page after page and the largest percentage of it wasn't true. One thing that pierced me to my very soul was their saying I'd taken them to the hangar where there was no evidence of a business of any kind. It stated there was no equipment or inventory. That burned me up. I had no recourse. It would be my word against theirs. It was best just to leave it alone.
From that experience I learned some valuable lessons. First, don't let anyone in my house unless they have a search warrant. Second, if a lawyer isn't present, at least have another adult with me as a witness. Third, speak when spoken to. Fourth, never volunteer information. Fifth, don't take anyone on a tour of my premises. The list could go on and on but you get the idea I was educated. Even now, I have a healthy distrust of people in positions of power. It's too easily misused.
Whatever came of the investigation, I never knew. Most likely, no evidence of wrongdoing made a judge decide there was no case.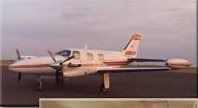 DH left on another trip. This time, he would be flying a Mitsubishi Diamond. He was moving up in the world. He was back in his shirt with the epaulets, a nice tie and dress slacks. I couldn't help but be proud of him as he walked out the door to his new assignment.
A day or so went by and a plane "buzzed" the trailer. I went outside and watched as a spectacle unfolded. Disaster had struck again and this time it was in our own backyard!