I'm running out of ways to say this is my weekly catchup post. I'm sure there are plenty of creative people who could come up with countless titles and maybe some of them will give me some tips.
Sunday
Not an unusual day. I exercised, ate, made the Macadamia Nut Cream, took lots of pictures, resized and uploaded them, on and on ad nauseam. You have no idea how long it takes to do an illustrated recipe. Or maybe you do if you are a food blogger. It was a drippy day outside and not one conducive to getting a lot done otherwise.
Monday
I had an email from the regular post office/bank person that I would be elected to take care of business today. Not a big surprise. Seems the worst weather day with the most mail almost always falls to me. It had snowed before I left the house and I swept the stuff off the steps. It was snow mixed with rain when I went to the bank and post office and then turned back to snow. One of the men at work had told me to let him know if I ever needed help bringing in the mail. I took him up on it. It snowed off and on all day. When I came up the mountain, it had stuck to the Christmas trees outside the roadside market. I'll take my camera tomorrow and take a picture if it hasn't melted. It's at basically the same elevation as where I live and the temp here is 31º F.
Tuesday
For a few minutes (less than four) I talked to my sister in rehab. She was hoping it was my brother-in-law calling so she could tell him to take her home. I asked if she'd be able to function and she said she didn't know. It's distressing to hear her so down and discouraged. She's in almost constant pain and if she takes enough medication to make her comfortable, she gets loopy. Not a good situation.
I gave the macadamia nut cream to my friend-who-eats-cooked-food along with some macadamias so she can make her own. She asked me about my taking MSM. I used to take it but it didn't help completely with my arthritic twinges. After I started eating raw, I finished taking what I had and then stopped. With raw, my twinges went away and I didn't need it, anyway. Her husband was going to be close to Aldi so she asked him to get me some romaine. She'll pick up spinach and a 12 lub bag of baking soda when she's at Sam's Club. That may be tomorrow so all I'll need to get on Thursday are my oranges, grapefruit, and assorted other fruit. Woohoo!
Oh, here are a couple of pictures of the trees. They are beautiful but a lot of the snow had come off. If I were into buying a tree, these are a good deal—$38 each for a Frazier fir.
Wednesday
Barbara came by and brought me some food. She didn't have the romaine so she brought me a head from what she bought at Sam's. They were planning to stop there today so I gave it back. I called and asked her to call me from Sam's and let me know about the organic spinach. She did and I ended up having them get me a bunch of food plus the soda.
I'd gone prepared to stay for prayer meeting and when I went to the car to leave the hospital, I embarrassed myself even though no one was there to witness it. I pushed the remote to unlock the door and it beeped but nothing happened. I tried the door and it was still locked. I pushed the button again. Still nothing. I pushed the button to lock it. It beeped. Then I unlocked it again. The door stayed stubbornly locked. I was beginning to feel a little desperate and didn't want to unlock it with the key since that sets off the alarm. I tried it one more time and noticed lights flashing behind me. I'd parked in a different spot than usual and I was trying to get in the wrong car!
I was the first into the church and it was COLD! I turned the heat up and went to the organ. I was thankful to be back with my familiar friend. The meeting was good but it's late now and I'm still not in bed. It's been a long day, I'm sleepy, and I'm going to bed.
Thursday
Two long days in a row is too much! I had to go pick up my citrus fruit, shopped Goodwill, hit Wally World and ended it all up by going to BiLo and getting overripe bananas. It was odd to buy groceries without getting spinach and romaine but it was nice, too.
My purchases at Goodwill were a pillow for Twinkle and some more LL Bean corduroys, 4 petite in a light green. I didn't bother to try them on since they are the same size as my other pair. I looked for some black slacks and found a beautiful pair size 4 wool, fully lined, but they were rejected since they have to be professionally dry cleaned. I have to go many miles to find a dry cleaner any more. Are they a dying breed?
I looked for a bookcase for my friend in the nursing home. She's going to have to take care of that herself. There was a little one at Goodwill I don't think she'd like. The one I found at Wally World is $60. I doubt that would cut it, either. I did get some long johns for me.
Last night, I felt nauseous after I went to bed. Eating too late isn't a good thing to do. After a half hour or so I was okay. That's the good thing about raw. It digests quickly.
Friday
and thank God! It was cold again. Seems to be the norm these days. I had to start the car to melt the ice off and there were warnings out for slick roads. The lid to the compost bin was frozen so I left the garbage sitting on the ground. I wore my long johns which turned out to be good. I was the bank/post office person this morning but not this afternoon. I still left early because I'd stayed almost two hours over on Wednesday.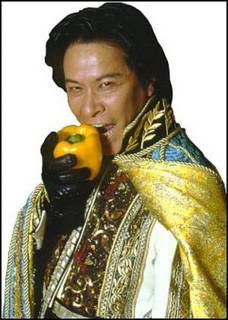 Christmas open house was this afternoon. Someone saw me loading a plate with cheese cubes, spread, crackers, pigs-in-blankets and cake. It was a total shock. Guess she thought I had really fallen off the wagon. I'd gotten the food for my second shift person who was coming in too late to get it for herself. I got some veggies for me. I've also been munching on little sweet peppers Barbara got me the other day. Makes me feel like Chairman Kaga.
Happy Sabbath, everyone!
Saturday Night
I've done pretty well with this. There was one day I missed but I made it up the next day and no one will be the wiser.
It was cold again this morning (is there a pattern here?) and I was going to go out and start the car so it would warm up before I left. I couldn't find my keys! I spent the next 10 minutes looking and finally called the pianist to let her know what was going on. She couldn't find her glasses she wears to play the piano so we were about even except she didn't have to depend on them to make the car run. I told her I'd keep looking but I'd be late. After I hung up, I prayed yet again and this time it dawned on me I might have put them in my jacket pocket. I checked and, sure enough, there they were. I dashed out the door and was late but so was just about everyone else.
My stomach hasn't felt completely right for a couple of days now. I'd eaten the veggies at the open house yesterday and I burped (silently, thank goodness) cauliflower all through the services. I haven't eaten much today and may just do fruit tomorrow. We'll see. I lay down for an hour or so this afternoon but didn't sleep. I don't feel sick, just borderline yucky.
That's been my week. I can hope for a better report next time.