In her own way, our dog Kat had been through a lot, too. When she was a puppy, she'd had parvo. Anything she ate or drank went straight through. It's amazing how quickly a young animal like that can get dehydrated. It wasn't long until she looked like a skeleton with skin. We took her to the vet and she had to be hospitalized. She barely made it and had to eat special food for months. It was a low protein diet that decreased the load on her kidneys. Shouldn't that tell humans something? Then came the unplanned pregnancy, her territory invaded and the ugliness of the PI in the woods. She was a sweet dog with a wonderful personality but she was very protective, too.
My in-laws had never allowed animals in the house but Kat was the exception to the rule. The morning after we got there, my father-in-law had put his arm around DD and Kat growled and snapped at him. He had to be careful not to get her agitated.
It was time for school and the first thing was devotions. We had our prayer box and DD said she wanted us to pray that Kat would like Grandpa. We wrote it on a slip of paper, put it in the box and had our prayer. When we opened our eyes, Kat walked over, put her head on Grandpa's knee and looked up at him with an expression that said, "I'm sorry and I love you" all at once. From that time on, they were best friends.
No matter where we went, people were asking about DH. It got to the point when I'd see certain people coming, I'd go the other way. My mother called that going on a Dodge Party. I got good at it. DD was taking it all in. One night, she said, "Mom, I know where Dad is." "You do? Where is he?" With a look on her face that told me she was thinking serious thoughts beyond her years she said, "He's in God's hands."
During our visit with The Folks, they talked us into staying longer than we'd planned. I had to go home to check on the cat and pay bills. It was decided one of our cousins would go with me on the three hour trip. Our big black cat let me know he didn't like being left there all alone. I did what I had to do and we went back to the mountain.
We had some serious talks. I had enough money to take us through July. It was decided we would move into the little guest cottage they had on the property. It sounds much more glamorous than it was. It had originally been a garage. There was a small screened front porch with sliding windows in front of a long narrow room DD and I would have to share. Across the back was a kitchen with a bathroom and closet at one end and a little room I'd use for an "office" at the other. It was a humble little home that would have fit into the living room of the house we were leaving. A roof over our heads was what we needed and it had a roof. We went from a total of 3,000 square feet to less than 1,000.
An aerial photographer who was also a good salesman took a picture of the "estate". I've cropped out everything but the little cottage. They took liberties when they "painted" the picture by making it appear larger than it was. There were also windows where there weren't any and none where there were. The "sling" in the tree was one of DH's hang gliding harnesses DD used for a swing.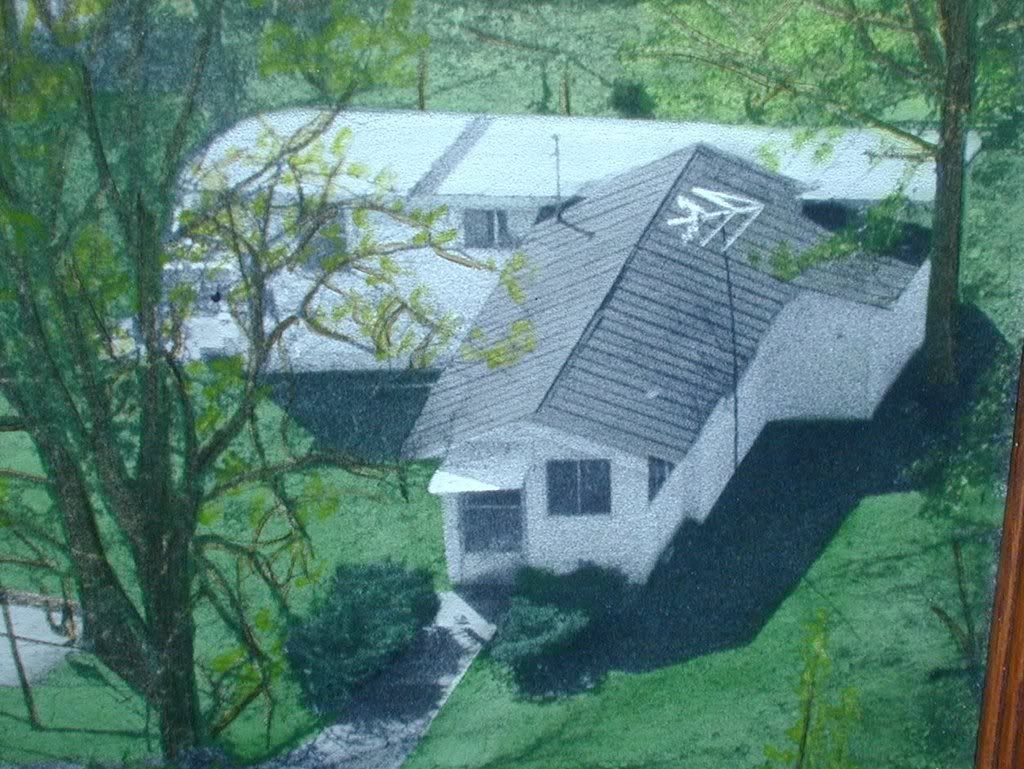 When we got home, I returned the cooktop and oven we never built in and used the money to buy an Amiga 1000. It was probably one of the most stupid decisions I could make but the Lord takes our mistakes and turns them into blessings. My mother thought I'd lost my mind. Other people just shook their heads and considered the source.
There was some work that needed to be done on the cottage so we went back home to make arrangements to sign the house back over to the original owners and prepare to move. MOVE! I hated that word with a passion.
One thing all the changes in my life had brought about was I was no longer interested in drugs or wine. Once after everything had happened, I was offered something. I took it and didn't like the way it made me feel. I was through. My prayer for help had been answered. It wasn't at all the way I had wanted or expected but the desire was gone.
The last house payment was made and the papers were signed to avoid foreclosure. Our moving day was set. Since I had both a piano and organ, professional movers were hired to do the job. My in-laws were footing the bill.
Before we left, my in-laws and my mother came down for their one and only visit while we lived in "The Dirt House" as DH called it. They were impressed with both the house and the land but we wouldn't be living there much longer.
On the last Sabbath, I invited the whole church up after potluck (we had 12 members). Even with its small congregation, there was a large percentage that either played, sang, or did both. We had an afternoon of music. I sent everyone home with plants. Out of over 100, I had picked out half dozen to keep. It was like losing family members to see them go.
When the movers had cleared everything out, I took pictures of DD in the bare living room and beside the huge woodpile we were leaving behind. My dreamhouse had turned into a nightmare. We were leaving home.